Exclusive limited edition!
20 years has been a long time. During that time, we have come a long way together. You are helping us to improve our skills and make innovations. Your enthusiasm is our fuel, so we like to make everyone happy and the footbikes can help with that. During these years, we have met distinctive persons with amazing histories. They have made many friends and they were with our footbikes even in the most intimate moments. You can't say that one idea cannot change people's life: In the beginning, a footbike for kids was made in a garage. Today, we are proud that we are a big family and as a tribute, we created a new special limited edition for you. Because it wouldn't be possible without you - we can do what we love.
---
We currently produce our footbikes in a modern Czech factory using the newest technologies. That's why we all can say: "This is made in our country, in Czech Republic!".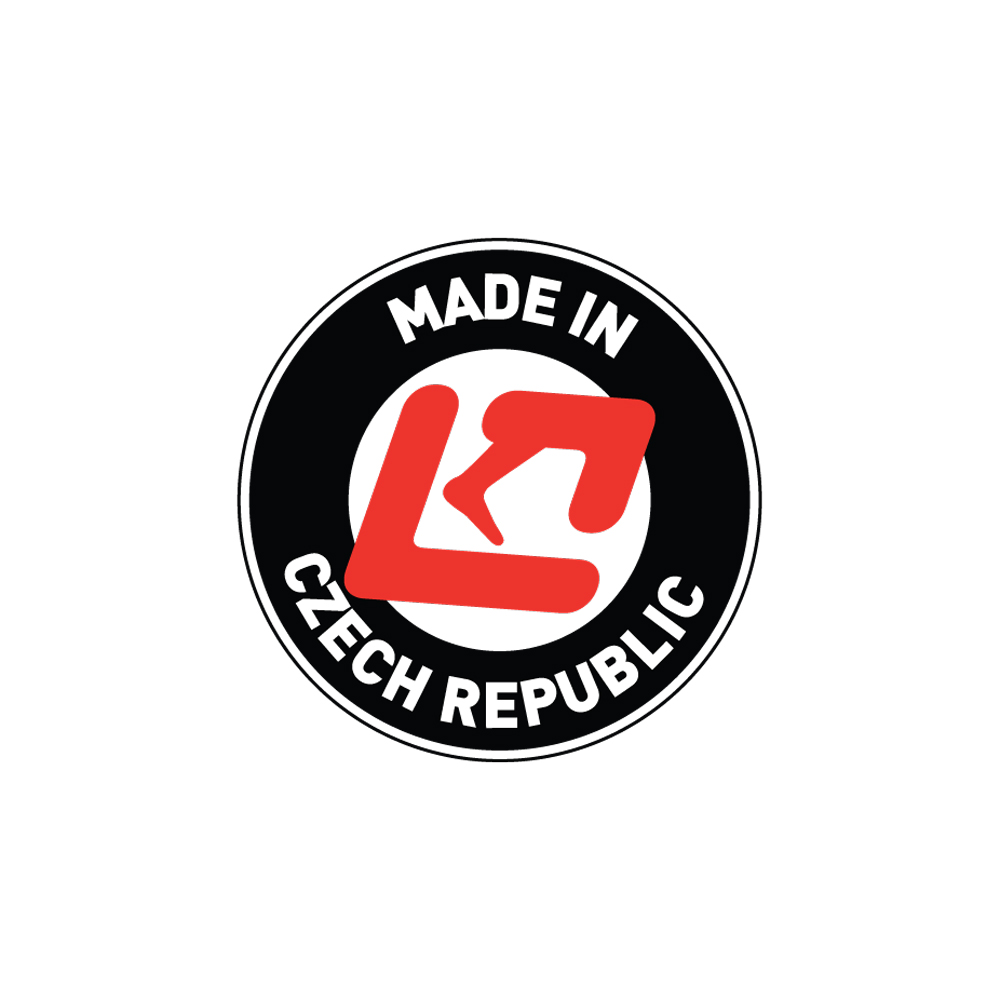 ---
Say welcome to the new limited edition of footbikes Kostka 20 years family!
The Kostka 20 years family edition is based on the MAX equipment set. It combines the application of the newest technologies with good price. The MAX set offers you everything that a modern footbike should have. This set provides a narrow 65 mm hub with industrial bearings, rims with lathed braking surface, high-quality brakes, tires, ergonomic handlebars, optimized geometry and precise design. Additional equipment can be installed as well.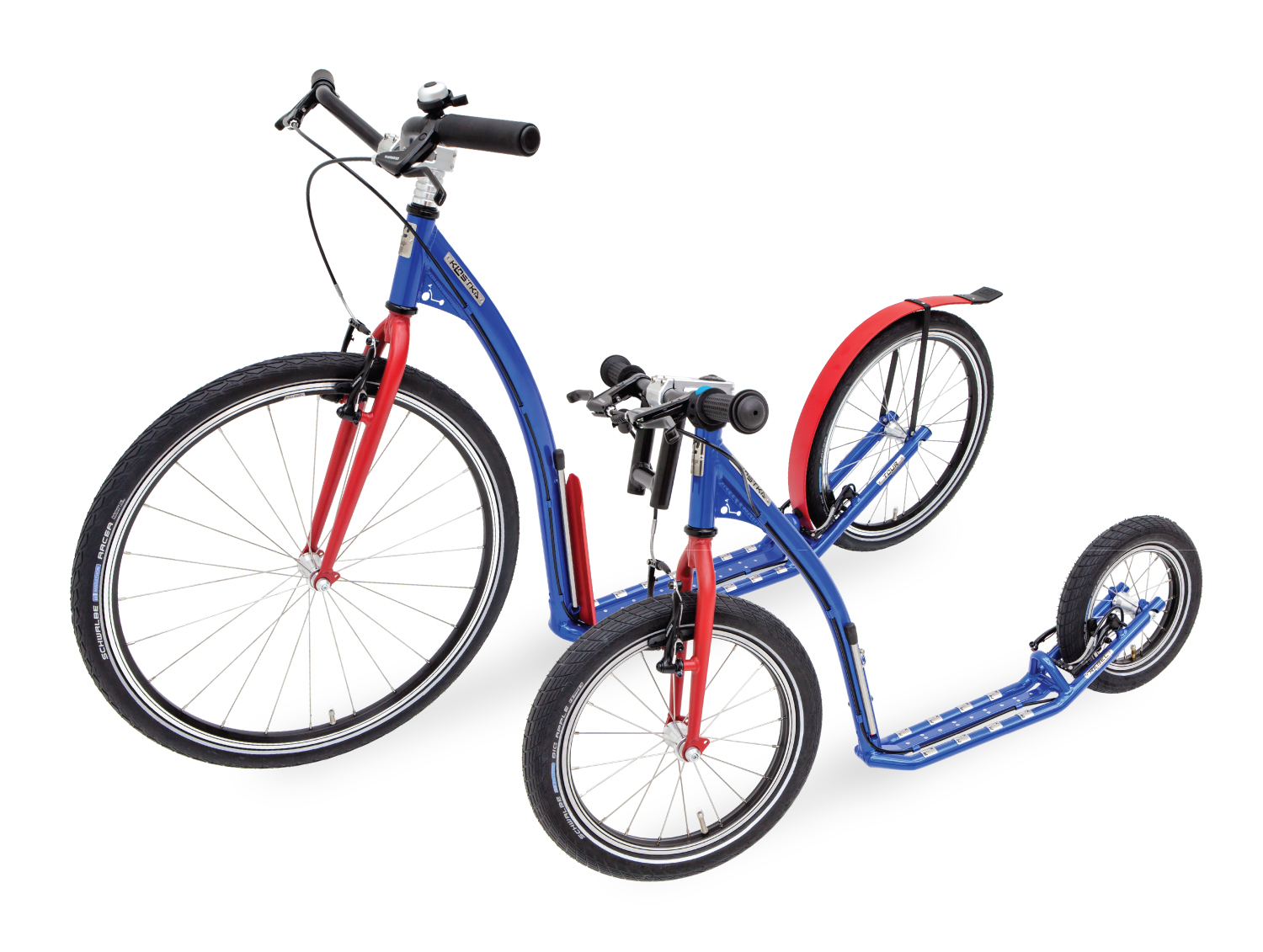 ---
The blue colour was in the beginning
The first footbike was made in blue colour. We decided to follow this tradition. The footbike frame was coloured in special metallic colour but the front fork and equipment in dull Ferrari colour, which highlights the company's character. The whole design is completed with silver components with unique ornaments. The combination of dull and bright is what makes this footbike exceptional. This combination represents our national colours and the 100th anniversary of our republic.
---
Special laser-carved logotypes represent the perfectly made details on footbike's stem, identification plates and wheel hub. This makes your footbike optimized in every detail and absolutely unique.
---
KOSTKA REBEL MAX KID (G5)
KOSTKA REBEL MAX KID (G5) is a perfect footbike for all active little boys and girls. It's equipped with inflatable light-weight wheels. The weigh is only 5.4 kg, which makes it one of the lightest kids' footbikes on the market. The footbike weight and deck height is very important for children and thus these parameters had a high priority during development.
And there's the best thing: This footbike for little kids can evolve to a footbike for older kids! So when the kids grow, you can just set up the handlebars to upper position. You can change height of the handlebars Kostka FBH 420 – 100 Al 2P through fixation in the stem. This footbike is suited for children up to height of 130 cm?
The frame made from the very solid steel (CrMo) and the industrial bearings provide the best driveability to
KOSTKA REBEL MAX KID (G5)
. We wanted to improve the frame's durability and safety, so we equipped the lower side of the deck with a special welding - this element protects the frame against damage caused by terrain collision.
For better safety purposes, the bike grips were moulded to fit perfectly to child's hands. The brake levers Shimano 4000 are adjustable as well, plus they're safe since they can be held even by the tiniest hands. The brakes themselves are very functional and reliable.
With various coloured designs is the footbike
KOSTKA REBEL MAX KID (G5)
a great piece of art which is worth appreciate. So don't hesitate and make your children possible to ride delightedly. We believe they will love this kind of fun.
Premium-class Czech footbike for kids has been designed without compromises and using the modern technology.
---
KOSTKA TOUR MAX (G5)
Whether you decide to have a nice and easy trip through the neighbourhood or you plan to ride a long way further, you will always get a great unique experience with the footbike
KOSTKA TOUR MAX (G5)
. You will perceive the world in the new light while footbiking! So, step on and straight ahead!
Once you push off on this adult tourist footbike for the first time, its perfect driveability will make it a part of your body (and soul) instantly. You will get to like the footbike
KOSTKA TOUR MAX (G5)
thanks to the precise controllability and stability, even at high speed. We strove to take the frame to perfection by applying a special design and we also innovated the front fork so that these modifications could become the main assets of this footbike.
The footbike has a 26" front wheel which allows you to get over every unevenness and ride on moderate terrain without any problem. The tires Schwalbe Marathon Racer make sure that you hold the line precisely. They fit best on the smooth asphalt but unpaved roads in the fields or woods are no problem as well.
We designed both frame and front fork (supported by the 65 mm wheel hub) a bit narrower in order to make the footbike comfier for you, whether you use it for trips or just in leisure activities. This construction prevents the pushing leg from touching the footbike and thus makes your ride more comfortable. Moreover, the two-chamber rims Dragon with stainless wire spokes and the wheel hub Kostka HK 6524 RS in the industrial bearings make the ride effective, comfortable and very fast.
It may happen that you hit something with the lower part of the deck, that can't be avoided... We tried to protect the frame during these collisions and thus prolong the lifespan. So we added a specials welds and a stiffener to the lower part of the deck that makes the footbike tougher as well.
But every ride has an end... When you would like to stop, just use the steady V-brakes Shimano 4000.
The footbike
KOSTKA TOUR MAX (G5)
was born to become a tourist who loves long trips. But it wouldn't get bored during shorter tours in the neighbourhood either. This adult footbike, equipped with inflatable tires, fits perfectly for both asphalt and unpaved roads, and furthermore it's an almost inexhaustible source of joy for you - you wouldn't get bored either!
---
Handlebars and grips
At first you can try the new ergonomic handlebars Kostka FBH 680-50 Al Wings which were designed especially for footbiking. The bar ends are adapted to your wrist and to natural grasp, thus your arms aren't stressed more than necessary. The new gel grips provide comfort you deserve.
---
Additional equipment (included in price)
The footbike includes both front and rear mudguard in Ferrari colour. The footbike is equipped with a stand.
---
If you buy the model from our limited edition, you will receive a bottle opener with the serial number of your footbike.
---
ride up